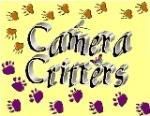 This meme is all about photos of animals/critters.

What? There's a bird feeder here? Why, I had no idea.
I'll just peek through here to see if anything appeals to me.

Hmmmm. Baffling.
Yup, there it is.

Maybe I can unscrew this thing.

Or maybe if I act real cute they'll just give me some.
Think. Think.
Call Cirque du Soleil!
Visit more Camera Critter gitters.
.