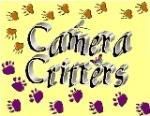 This meme is all about photos of animals/critters. This is my first time playing here.
Last week I noticed this persimmon tree in our neighborhood and thought it looked so unique, with no leaves and the bright orange fruit hanging like holiday decorations. I toddled over with my camera for a few shots.
And then these guys started showing up...