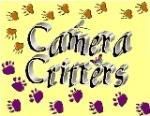 This meme is all about photos of animals/critters.
Click on the photos for more detail.
I noticed these nest-like structures under the bridge down by the river the other day. On closer inspection, I don't think they're nests. They look like accidental mini eco-roofs growing out of the pipes. The crows loved them though - I think they stash some treasures in there.
Can you tell what this crow has in its mouth? It looks a bit like a cell phone.
Impressive talons.
Visit more Camera Critter gitters.
.