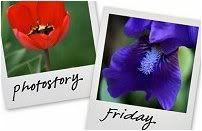 Hosted by Cecily and MamaGeek


On a shelf of the Portland Building overlooking 5th Avenue in downtown Portland sits the second largest hammered copper statue in the US (the first being the Statue of Liberty). Her name is Portlandia.
She was installed in 1985, after being shipped by rail from Maryland, assembled in a shop in Portland and delivered to the downtown area on a barge up the Willamette River.
Raymond Kaskey
is Portlandia's sculptor.
I used to work in this building. Every morning I'd give her a little nod and ask her to help me do my best work.
Portlandia is 36 feet tall in her kneeling pose - if she were to stand up for a stretch, she'd be about 50 feet high.
Welcome.
.