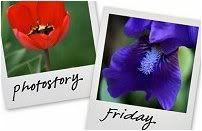 Hosted by Cecily and MamaGeek
The Hawthorne Bridge in Portland runs east and west across the Willamette River. It's one of the most heavily traveled bridges in Portland. It's almost 100 years old. Some specs according to Multnomah County:
The six main spans of the Hawthorne Bridge are steel through trusses which carry two inboard traffic lanes and one outboard lane on each side. The overall length of the bridge spans is 1383 feet. There are three spans east of the lift span section, each 209' - 3" long. The lift span section of the bridge consists of the vertical lift span flanked by two tower spans each 244' - 3 ½" long. The two towers rise 165 feet above the bridge deck and support two counterweights, each weighing 450 tons.

The lift span is of the span drive type and both machinery and operator's houses are located on the lift span above the roadway. The operating machinery consists mostly of open gearing of original installation. The electrical power and control systems are modern and were installed in 1975.
When river traffic requires the drawbridge to open, the middle span - the lift span - raises and the huge counterweights (the red blocks on either side) lower.
And the Portland Spirit moves on upriver.