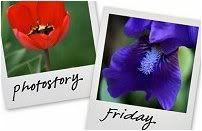 Hosted by Cecily and MamaGeek
One of the things I love about living in Portland is the diversity of characters. You just never know what you'll run across here. I took my camera down to the Eastbank Esplanade on the Willamette River Wednesday. First thing, I encountered this wonderful but unlikely trio playing their music. Can't say I've ever seen a sousaphone in a trio with guitar and drums! Click on the photos for an expansive view.

See more Photostories here.