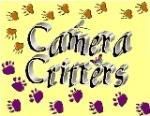 This meme is all about photos of animals/critters.
I visited a reptile store in the neighborhood this week. It was a smelly place. And I felt sorry for the creatures in the cages and the plastic containers. A few of them offered up some nice photo ops. These were all taken through glass, so they're not as clear as they might be. I didn't mind though.
Corn snakes.
Visit more Camera Critter gitters.
.