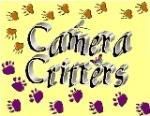 This meme is all about photos of animals/critters.
Visit the
Camera Critters website
for more wonderful critter photos.
There are a lot of Canada geese that live around the downtown waterfront area in Portland. These families were swimming along the seawall while I was above them on the promenade.



I hadn't noticed the aggression posturing of the parents until I downloaded the photos. I was concentrating on the beautiful goslings.