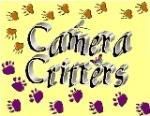 This meme is all about photos of animals/critters.
Last week I took a photo class at the Oregon Zoo. Class participants were lucky to have a private wooded area where we could get up close and personal with some birds of prey and a couple of other zoo residents. I've posted a few photos in other posts this week, but here's a sample of all the animals we got to see.

Western screech owl
:
Redtail hawk
:
Prehensile tail porcupine:

When he heard the elephants trumpet right next door, he got scared and scooted back into his kennel. He was coaxed out with some goodies.
Macaw - signaling that he wants to perch on the zookeeper's arm. (Either that or he's high-fiving us; er, high threeing us. Or flipping us off.)
American kestrel. Cute little guy - though he is a bird of prey.
The turkey vulture kept his wings spread the whole time, either sunning himself or showing off.
Harris hawk:
Hadada ibis:
The elephants are legendary at our zoo - Packy, a bull elephant who turns 47 this month, was the first elephant born in captivity in the US. Here's Rose-Tu and the newest member of the herd, Samudra - Sam - born last August.
Sam with his mom and aunties:

Bald eagle. I thought the talons looked like steel weapons - nothing I'd want to tangle with.

Eurasian eagle owl:
Barn owl:

Augur buzzard: