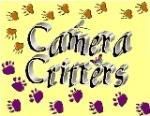 This meme is all about photos of animals/critters.
This flicker has been coming to the feeder every morning for the last couple of weeks. I was finally in the right place at the right time with camera in hand. Thanks to Laurie, who's been on Flicker Watch!

I love the way she wraps herself around the feeder and uses her tail to balance.

The gray blob in the background, left, is Bella the cat, also on Flicker Watch.