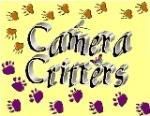 This meme is all about photos of animals/critters.
This week: a few more photos from the pond.
Last week
it was mostly King cormorant, herons and ducks. Here are shots of some of the many seagulls that were present.
I love the sound of gulls - since I grew up around
Puget Sound
, it's a cry that pulls me back to those gravelly beaches every time. I know some people think of them as noisy garbage birds, but I think they're elegant in their bodies and flight. And they evoke salt water dreams.
Click on the photos for more detail.
Visit more Camera Critter gitters.
.