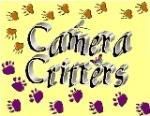 This meme is all about photos of animals/critters.
Another trip to another park with another pond - and lots of ducks and geese.
Click on the photos for more detail.
They all came out to greet me, thinking I'd have treats for them.
And promptly retreated when they realized I was just another dang photographer with no goodies.
Duck shenanigans:

Goose shenanigans:


Visit more Camera Critter gitters.
.