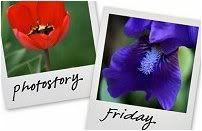 Hosted by Cecily and MamaGeek


This is Kirk. I used to see him on the corner in my neighborhood playing his trumpet (not very well). He always wore a white suit and Mickey Mouse ears. Even though his music was kind of obnoxious and out of season (carols in July), I admired him for showing up. And his playing gradually improved. I mean, it would have to if you play 8 hours a day.



Then I began seeing Kirk perched near the entrance to one of Portland's busiest bridges - the Hawthorne. Not only does he play his trumpet for passing bicyclists, pedestrians, and the cars that have to stop at the entrance to the bridge, now he does a whole schtick, with toys and horns, rubber chickens, juggling, and general merry making.



I usually enter the bridge in the lanes that don't have to stop; but the other day I had my camera with me and decided to take the other route just to have a minute with this interesting guy - and to give him some money. He is so dedicated - he's there in the rain, snow, hot sun, always smiling and laughing. It's hard not to feel good when you pass him.




So I pulled up to the stop sign and asked if I could take his picture. He's such a ham, and I'm sure I'm not the first person to ask! He did a little song and dance. Then I told him I'd like to interview him sometime.




He reached into his pocket and pulled out a DVD and handed it to me. On the DVD are interviews with the local news stations and some cuts from his local cable TV show.

I love encounters like this. Thanks, Kirk, for making us smile. I had to drive on; it was rush hour and the cars were beginning to stack up behind me.
.