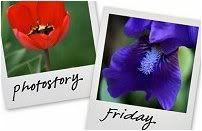 Hosted by Cecily and MamaGeek



Standing in line at the post office is one of my least favorite tasks, and there is always a line at the post office. People in line are often as unhappy about being there as I am, and the cashiers are cranky (remember where "going postal" originated). So the other day, after accumulating a few weeks' worth of packages to be mailed, I couldn't put it off any longer; I grabbed my current read to distract me from the grumpy vibes and headed out.

Full parking lot = bad sign. I walked through the door and indeed there was a long line of disgruntled folk. But wait...what's this? Three or four spots from the end of the line was a young woman with a colorful, fun outfit on, rainbow dreadlocks, and holding a big hula hoop. I hesitated for a minute (I'm pretty shy with strangers), but then asked her if I could take her photo. "You're so colorful," I said. She quickly agreed and I ran (ok, I limped) back to my car (which means losing my place in line! was I crazy?) to fetch my camera. We had a spontaneous photo shoot right there in line at the PO and a fun conversation about her hula hoop (or just hoop) and her hoop troop,

Hoopshine

.
This is Lacye.
Lacye's wonderful dreadlocks.
Lacye makes these hoops and mails them all over the world.
Just like this - no box, taped up with postage affixed.
(Although, she was there to find out why this one was returned.)
She has
an online catalog
where you can order custom-made hoops.
You can read here about why she hoops.
I learned a few valuable lessons from this fun encounter.
Always have my camera with me.
Cameras/photography are great conversation starters (so are hoops).
Standing in line at the PO doesn't have to be boring.
I never thought I'd say this sentence: "I had so much fun at the post office today!"

Lacye encouraged me to take a class in hoopdance. I didn't tell her that I was the first generation of hula hoopers (at least the authentic plastic hoops) and that it was more than 50 years ago and I doubt I could spin one of those bad boys on my body anymore. But I appreciated her belief in me!
.